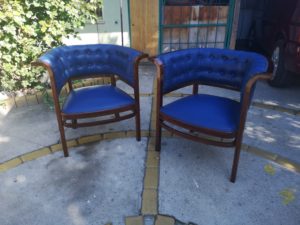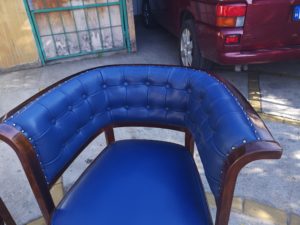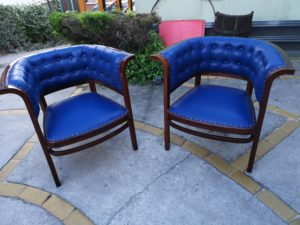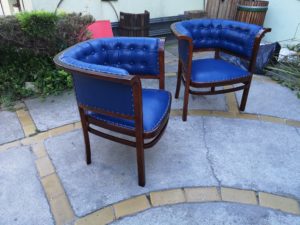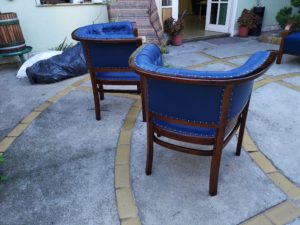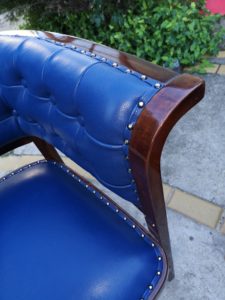 This is model 6634, designed by Marcell Kammerer and produced by Thonet in 1910, which incorporates the J. J. Kohn model commonly called Buenos Aires, designed by Josef Hoffmann. The armrest is almost identical and has the same sitting mode. The two armchairs have been restored in a philological manner with a shellac pad and upholstered with a splendid blue colored leather, maintaining the original capetonnè and the studded stud finish.
We have added a photo extracted from Giovanni Renzi's useful book "The modern furniture", which illustrates its origin. 45 x 59 x 59 cm.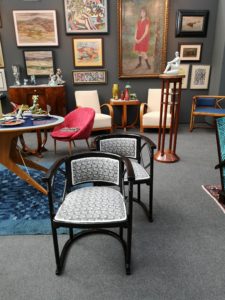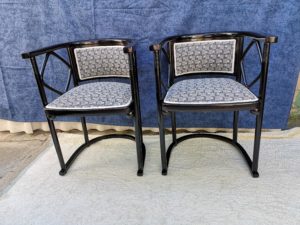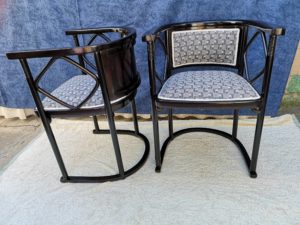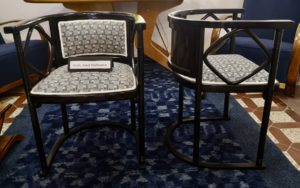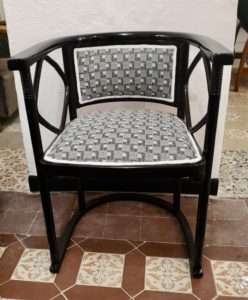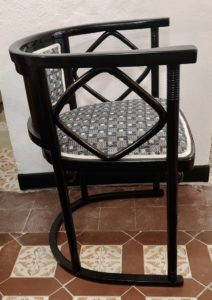 Fledermaus armchairs (Pipistrello), designed by arch. Josef Hoffmann in 1905 and produced by both J. J. Kohn and the Thonet company from Vienna. They have been restored in their ebony color and upholstered with the re-edition of the original fabric produced by the Austrian manufacture Backausen which bears the motif of the Viennese rose. 56×52 h76 cm. Age 1900 -1918.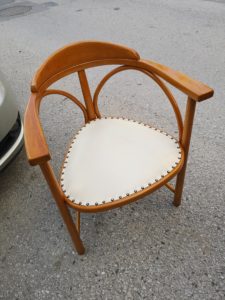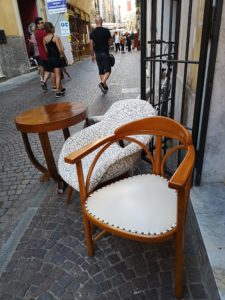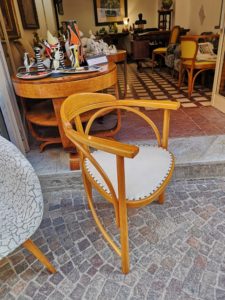 Magnificent Thonet armchair n ° 81 in curved beech re-edited in Hungary in the 1950s, restored with a shellac pad and upholstered in ivory-colored leather. 62 x 51 x h 80 cm. Age 1941 – 69.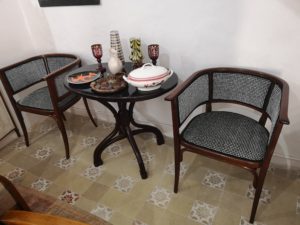 Pair of "small well" Thanet armchairs n ° 6575 in bent walnut-colored beech, restored with shellac and padded with a black and white geometric themed velvet fabric. 57 x 54 x h 78 cm. Age 1905.
Rare armchairs branded Thonet in curved beech and restored with shellac with a pad, upholstered with a magnificent petrol blue leather and finished with a Viennese nailing. 57 x 58 x 77 cm. Age 1910.